I directed three episodes of this web series, created by Amy Gaipa and Judith Leora.
It's scheduled for release early 2017, and features a plethora of terrific people. Amy, Judith, and their co-producer Tiffany Fisher-Love collected an outstanding team and it was a pleasure to be part of it!  (I directed an episode featuring my dog and an episode featuring Judith's cat, plus some of my favorite actors — what more could anyone ask?!)
Connect on Facebook  and Twitter for release updates for #GoingHomeless!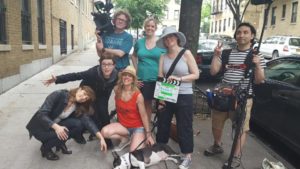 (Clearly Lucy was more tired than any of the cast or the crew!)